SBFN is a unique, voluntary community of financial sector regulatory agencies and industry associations from emerging markets committed to advancing sustainable finance in line with international good practice.
Members collaborate through peer-to-peer exchanges and thematic working groups.
SBFN's 83 member institutions represent 65 countries and US$43 trillion, or 86 percent of the total banking assets in emerging markets.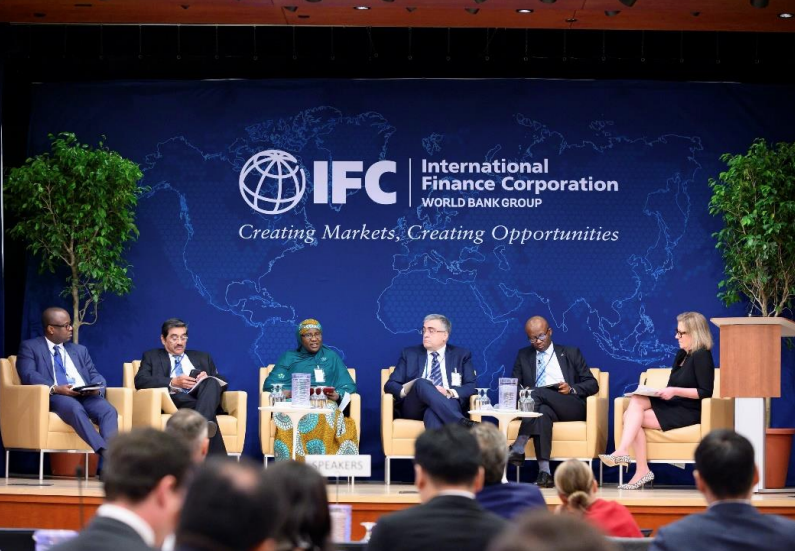 How to use the Membership Index
Click on the green bars below to search the table of member organisations.
You can also search keywords in each table by using the search box.
| Country/Region | Organisation Name | SBFN Member Since |
| --- | --- | --- |
| Argentina | ADEBA – Asociacion de Bancos Argentinos (Banking Association of Argentina) | 2016 |
| Armenia | Central Bank of Armenia | 2021 |
| Central Africa | Banque des États de l'Afrique Centrale (BEAC) | 2022 |
| Central Africa | Securities and Exchange Commission of Central Africa (COSUMAF) | 2022 |
| The Republic of Azerbaijan | Azerbaijan Banks Association | 2023 |
| The Republic of Azerbaijan | Central Bank of The Republic of Azerbaijan | 2022 |
| Bangladesh | Bangladesh Bank | 2012 |
| Brazil | Central Bank of Brazil | 2012 |
| Brazil | Brazilian Federation of Banks (FEBRABAN) | 2017 |
| Cambodia | Association of Banks in Cambodia | 2016 |
| Chile | Superintendence of Banks and Financial Institutions of Chile (SBIF) | 2016 |
| China | China Banking and Insurance Regulatory Commission | 2012 |
| China | China Ministry of Environmental Protection | 2012 |
| China | China Banking Association | 2014 |
| Colombia | Asobancaria (Banking Association of Colombia) | 2012 |
| Colombia | Superintendencia Financiera de Colombia (SFC) | 2018 |
| Costa Rica | General Superintendency of Financial Institutions of Costa Rica(SUGEF) | 2019 |
| Dominican Republic | Multiple Banks Association of the Dominican Republic (ABA) | 2017 |
| Ecuador | Asobancos – Associacion de Bancos del Ecuador (Banking Association of Ecuador) | 2016 |
| Ecuador | Central Bank of Ecuador | 2021 |
| Egypt | Central Bank of Egypt | 2019 |
| Egypt | Federation of Egyptian Banks (FEB) | 2016 |
| Fiji | Reserve Bank of Fiji | 2017 |
| Georgia | Banking Association of Georgia | 2022 |
| Georgia | National Bank of Georgia | 2017 |
| Ghana | Bank of Ghana | 2016 |
| Ghana | Ghana Association of Bankers | 2016 |
| Guatemala | Banking Association of Guatemala | 2021 |
| Hashemite Kingdom of Jordan | Central Bank of Jordan | 2016 |
| Honduras | Honduran Banking Association (Ahiba) | 2015 |
| Honduras | National Commission on Banking and Insurance (CNBS) | 2015 |
| India | Indian Banks Association | 2016 |
| Indonesia | Otoritas Jasa Keuangan (Indonesia Financial Services Authority) | 2012 |
| Iraq | Central Bank of Iraq | 2019 |
| Jamaica | Bank of Jamaica | 2022 |
| Kazakhstan | Agency of the Republic of Kazakhstan for Regulation and Development of Financial Market | 2021 |
| Kosovo | Kosovo Banking Association | 2022 |
| Kenya | Kenya Bankers Association | 2015 |
| Kyrgyzstan | Union of Banks of Kyrgyzstan | 2018 |
| Lao PDR | Bank of Lao PDR | 2012 |
| Latin America | Federation of Latin American Banks (FELABAN) | 2016 |
| Latin America | Central American Council of Superintendents of Banks, Insurance and of Other Financial Institutions (CCSBSO) | 2021 |
| Latin America | Association of Supervisors of Banks of the Americas (ASBA) | 2021 |
| Latin America | Eastern Caribbean Central Bank (ECCB) | 2021 |
| Maldives | Maldives Monetary Authority (Central Bank of Maldives) | 2021 |
| Mexico | Mexican Bankers Association (ABM) | 2016 |
| Mexico | Semarnat (Secretariat of Environment and Natural Resources) of Mexico | 2016 |
| Mongolia | Mongolia Bankers Association | 2013 |
| Mongolia | Mongolia Ministry of Environment and Green Development | 2013 |
| Mongolia | Bank of Mongolia | 2012 |
| Mongolia | Mongolian Sustainable Finance Association (MSFA) | 2020 |
| Morocco | Central Bank of Morocco | 2014 |
| Morocco | Moroccan Capital Market Authority (AMMC) | 2018 |
| Nepal | Nepal Rastra Bank | 2014 |
| Nigeria | Central Bank of Nigeria | 2012 |
| Pakistan | State Bank of Pakistan | 2015 |
| Panama | Panama Banking Association (ABP as per its acronym in Spanish) | 2017 |
| Paraguay | Sustainable Finance Round Table | 2015 |
| Paraguay | Central Bank of Paraguay | 2016 |
| Peru | Superintendence of Banks, Insurers, and Private Pension Funds of Peru(SBS) | 2013 |
| Philippines | Bangko Sentral ng Pilipinas (Central Bank of the Philippines) | 2013 |
| Philippines | Department of Environmental and Natural Resources of the Philippines (DENR) | 2013 |
| Samoa | Central Bank of Samoa | 2019 |
| Serbia | Association of Serbian Banks | 2020 |
| South Africa | Banking Association South Africa (BASA) | 2016 |
| South Africa | South African National Treasury | 2021 |
| South Africa | South Africa Prudential Authority (operates within the administration of the South African Reserve Bank) | 2021 |
| Sri Lanka | Central Bank of Sri Lanka | 2016 |
| Thailand | Thai Bankers Association | 2012 |
| Tunisia | Central Bank of Tunisia | 2019 |
| Turkey | Banking Regulation and Supervision Agency of Turkey (BRSA) | 2015 |
| Ukraine | National Securities and Stock Market Commission | 2020 |
| Ukraine | National Bank of Ukraine | 2020 |
| Viet Nam | State Bank of Viet Nam | 2012 |
| Viet Nam | Viet Nam Ministry of Natural Resources & Environment | 2012 |